EXERCISING DURING
YOUR PERIOD
We get it: There's a time each month when the idea of heading to the gym just feels like the worst. This could be influenced by the changing hormone levels of progesterone and estrogen in your menstrual cycle.
Exercising during your period may actually reduce your period symptoms, such as cramps, fluid retention and stress. These tips can help you feel better — and give you the power to thrive even on period days.
Of course, every woman — and every period — is different. It's important to listen to your body while exercising and before trying any new exercises to understand what works best for you across your menstrual cycle.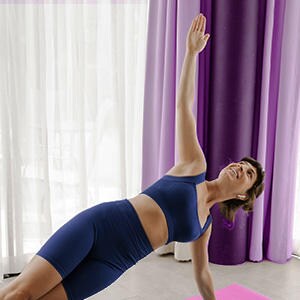 Before Your Period Starts
The days leading up to your period are probably going to be the toughest for getting in a good workout. Here are some tips to help keep you moving.
Try a gentler workout, like yoga or go for a hike in nature.
A meditation-based practice like yoga nidra is a great option for relaxing both the body and mind and easing your whole self into that time of the month.
On Your Period 
Hello period — goodbye estrogen and progesterone. These hormone levels are low at the start of your period.
Exercises like yoga, tai chi and pilates can help to stretch and extend muscles that may feel especially tense while you're on your period.
A trip to the gym or a HIIT workout is still your fitness friend this week. You just might surprise yourself with how hard you can push it!
If you're working up a sweat, be sure to stay hydrated and don't forget to drink plenty of water.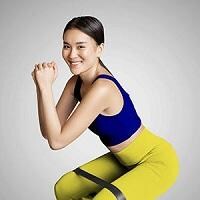 After Your Period Ends 
This is the time of the month when the aches and pains of your period are gone, and estrogen levels are rising.
Try an outdoor workout, like a run, hike, bike or mountain climb.
If you're more of an indoor cardio queen, head to your gym for your favorite group class.
Exercise is just one way to feel better as your body changes throughout the month. Check out our other tips for feeling better around your period.
Try Midol® for relief of your period symptoms. Unlike single-ingredient pain relievers,Midol® Complete is specially formulated to relieve multiple period symptoms such as cramps, bloating, and water weight gain.
Sources:
McNulty KL, Elliott-Sale KJ, Dolan E, Swinton PA, Ansdell P, Goodall S, Thomas K, Hicks KM. The Effects of Menstrual Cycle Phase on Exercise Performance in Eumenorrheic Women: A Systematic Review and Meta-Analysis. Sports Medicine. 2020;50:1813-1827.
Office on Women's Health (OASH). (2021). Physical activity and your menstrual cycle. U.S. Department of Health & Human Services. Retrieved June 2022, from https://www.womenshealth.gov/getting-active/physical-activity-menstrual-cycle
Rani K, Tiwari S C, Singh U, Agrawal G G, Ghildiyal A, Srivastava N. Impact of Yoga Nidra on psychological general wellbeing in patients with menstrual irregularities: A randomized controlled trial. Int J Yoga. 2011;4:20-5.
Reed BG. (2018). The Normal Menstrual Cycle and the Control of Ovulation. NIH National Library of Medicine. Retrieved June 2022, from https://www.ncbi.nlm.nih.gov/books/NBK279054/